I have finally got my new wheelchair!
I have independently wheeled myself around in somewhere other than my house, I am so happy with my new freedom! :D
I was able to be driven to a hospital appointment rather than having to rely on a stretcher in an ambulance & to be wheeled about by medical staff. The sole reason for this improvement in time, effort & independence & happiness is due to my new wheelchair.
(Ok & my car but I will update about that later, my lack of energy wont let me do as much as I desperately want.)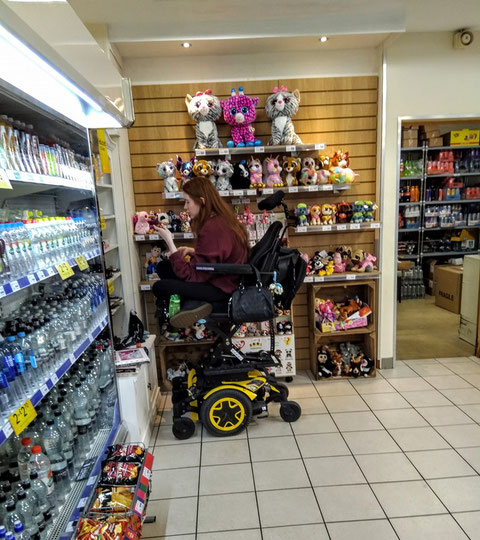 This is me stopping at a services, my parents went to one shop & I went to another, they came to find what was taking me so long & my mum caught me rummaging through the sale section!:)
Without the help of other people I would still be trapped in my bed.
Thank you to everyone who has donated, raised funds, shared & taken an interest in my journey to gaining my much needed wheelchair.
As you can see from this photo my new wheelchair has already enabled me to leave my house & get outside in the fresh air & nature. Not being a prisoner in my bed is so... freeing! :)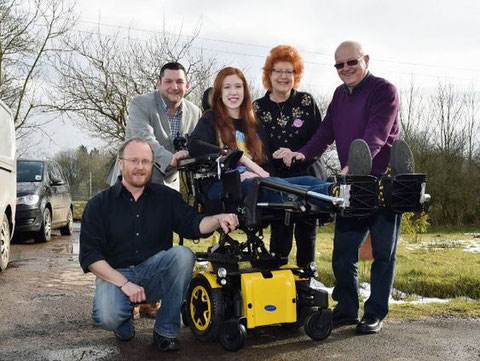 I never imagined I would raise the total I needed so soon, a local charity The League of Friends of Brampton Community Hospital have kindly agreed to donate the rest of the money I need to be able to buy my new wheelchair!!!

It has been over a year since my family & I started concentrating on raising funds for my wheelchair but I thought I would have to wait many years more, I am still in shock I will be getting my wheelchair so soon but I am incredibly exited! :D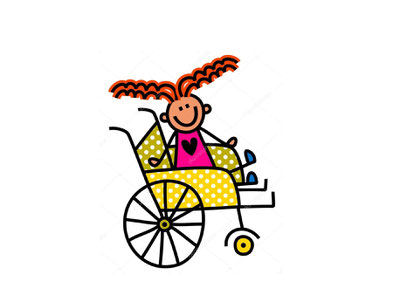 It is such a boost to know that 2017 is going to be the year I can independently leave my house. :)

The wheelchair supplier Cumbria Mobility & I are getting everything finalized & then my order is going through. Once I have the new wheelchair my quality life in my house & garden will greatly increase, then I will be able to test out Motability vehicles & order one. Soon I will be able to go on trips into my local town of Brampton & my local city Carlisle. 
I will update here & my Facebook page with photos of me in my new wheelchair once I receive it... I am iextreamly exited!
For now here is a slideshow of me in my sitting room trying out some different wheelchairs: